Afternoon all, this is a brief update - each of the below updates do have actions for you to execute. I'll just add it's been a fantastic couple of weeks, and that we're excited to be moving on to our next campaign this month.
There's plenty in the works, and expect to see more updates soon.
Role Preference Center
This week we added a role preference function, including training/practice request to the roles directory and so long as you are logged in, if you just head over their by (clicking here) you'll see a new section, like below that explains more information about it. Please do update yours, when you have a moment to do so.
It's going to be a really useful tool for us in the long run, and something we'll likely add to the application process too.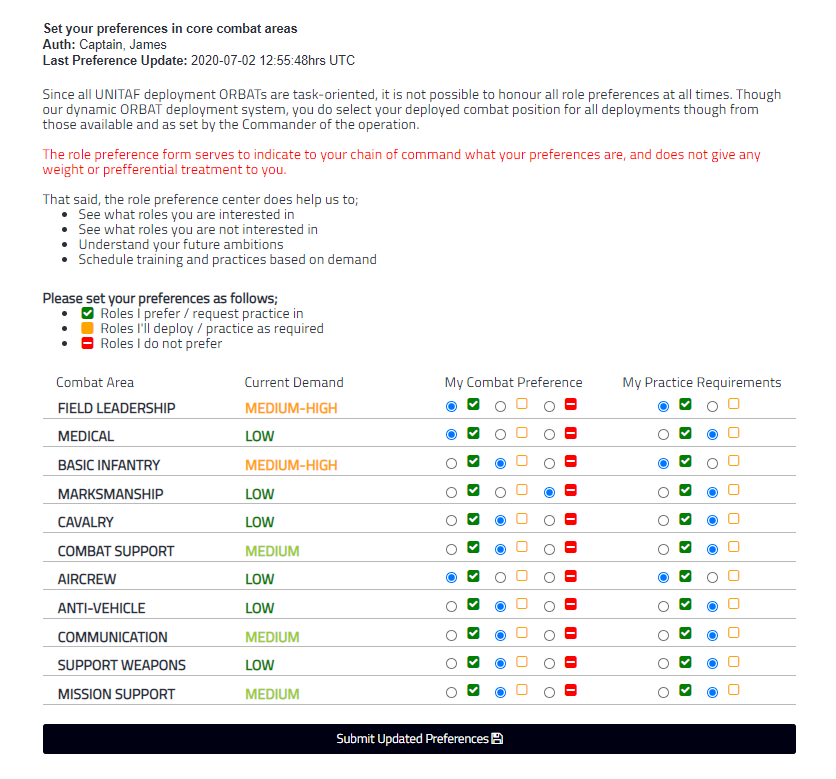 New Campaign Inbound
As you'll know by now, Operation Pavise is steaming towards a finale in Bolobongo and while there are some special operations needed to wrap up operations in Africa, we are now targeting July 19 for re-deployment to our next campaign.
We'll be sharing more details about it soon, but as I'm sure you've heard - we're asking you to make sure you have set your DLC ownership in your account here on UTFN.
The new campaign we hope to use Apex, we also have some very kind members who have offered to gift copies of Apex DLC, so if you need this please contact SFC Kevin to discuss further.
From the logged in profile dropdown
Select account
Scroll down, to see the DLCs
Set owned/not owned as required
Recruiting and Retention
I recently asked the Sgts to recommend someone who could head up the Recruit side of the COC and this week promoted Pvt Sharkhouse to Cpl. This is part of a wider chain of command re-org where we are no longer assigning Recruits into the main chain of command until their have ended probation, and are promoted to Private.
This, I hope will hugely increase the retention of Recruits, as they get the specialist attention they need in the early days of membership.
I'd also like to congratulate Cpl Sharkhouse, since in his short time in UNITAF, he's become someone who is highly regarded across the board and is exceptional at handling new members.
This is part of a wider focus on recruitment that you'll see us starting in the coming weeks. If there is anything you can do to help with the wider recruitment effort, please get stuck in, #j1-recruiting on Discord, is the best place to start.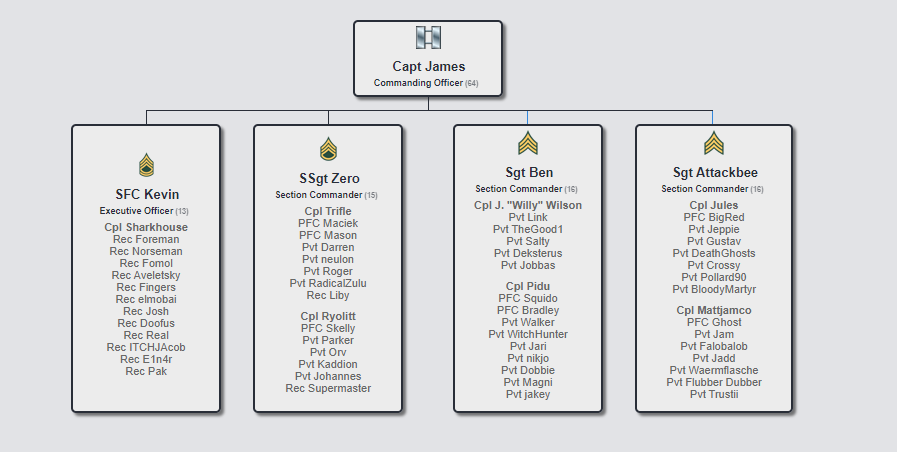 All the best, and I look forward to seeing you on deployment very soon.