CONFIDENTIAL / FOR OFFICIAL USE ONLY
OPERATIONS ORDER
Operation Giantsbane (1944), 3 days later.
---
TO:
OPERATIONS OFFICER
United Task Force
UNITAF Forces Baranow, Poland
FROM:
Lt Gen Chad P. Franks
CMDR CJTF USCENTCOM
MacDill Air Force Base Tampa, U.S.
---
--- OPERATIONS ORDER ---
Situation
Background Information
The Ally Forces have completed their first objective in taking control over a structurally intact bridge across the river, while taking casualties the Ally forces managed to push through Nazi defenses decicivly and push them back to the Airfield. 
Within the last three days troops have moved to the new Ally Joint Operating Base located just north of the western bridge. US Command has also been able to spare 2 US Pilots and accompioning fighter bombers to aid in the assault along with US Mortar Troops.
Recconasance planes sent to the airfield have been met with a strong air defence including an abundance of fighters and Flak, coming from somewhere within the perimeter of the Airfield.
The weather has drastically changed in the last week, Rain and Fog has caused Air assets to be  grounded, halting our advance and with the stakes so high, US Command will only allow the operation to go ahead with Air Available.
Mission
Tasking
Ally Forces are to move north and set up a command post with a mortar position. Ally forces are then to assault the Arifeld with all combined assets and wipe out the rest of the Nazi presance in the East of the Region.
Execution
Tasks and Sequencing
Warning, Maps of the Region are outdated for the Airfield as the Nazis have fortified it significantly in the last few months and added many structures to the once rural Airfield.

Ally Forces are to march north up the road sweeping for any remaining Axis presence until reaching PHASE LINE ABLE. 
Upon reaching ABLE Troops are to fortify the position and a makeships headquarters is to be established. Mortar equipped troops are to set up a firing position here, the Forward Obsvere needs to then talk with the mortar troopers and pick out likely targets.
When the position is set and all units are ready all Ally forces in the area will begin the attack on the Nazi Postion.
Administration/Logistics
Resupply
In accordance with SOP
Medical
In accordance with SOP
Rules of Engagement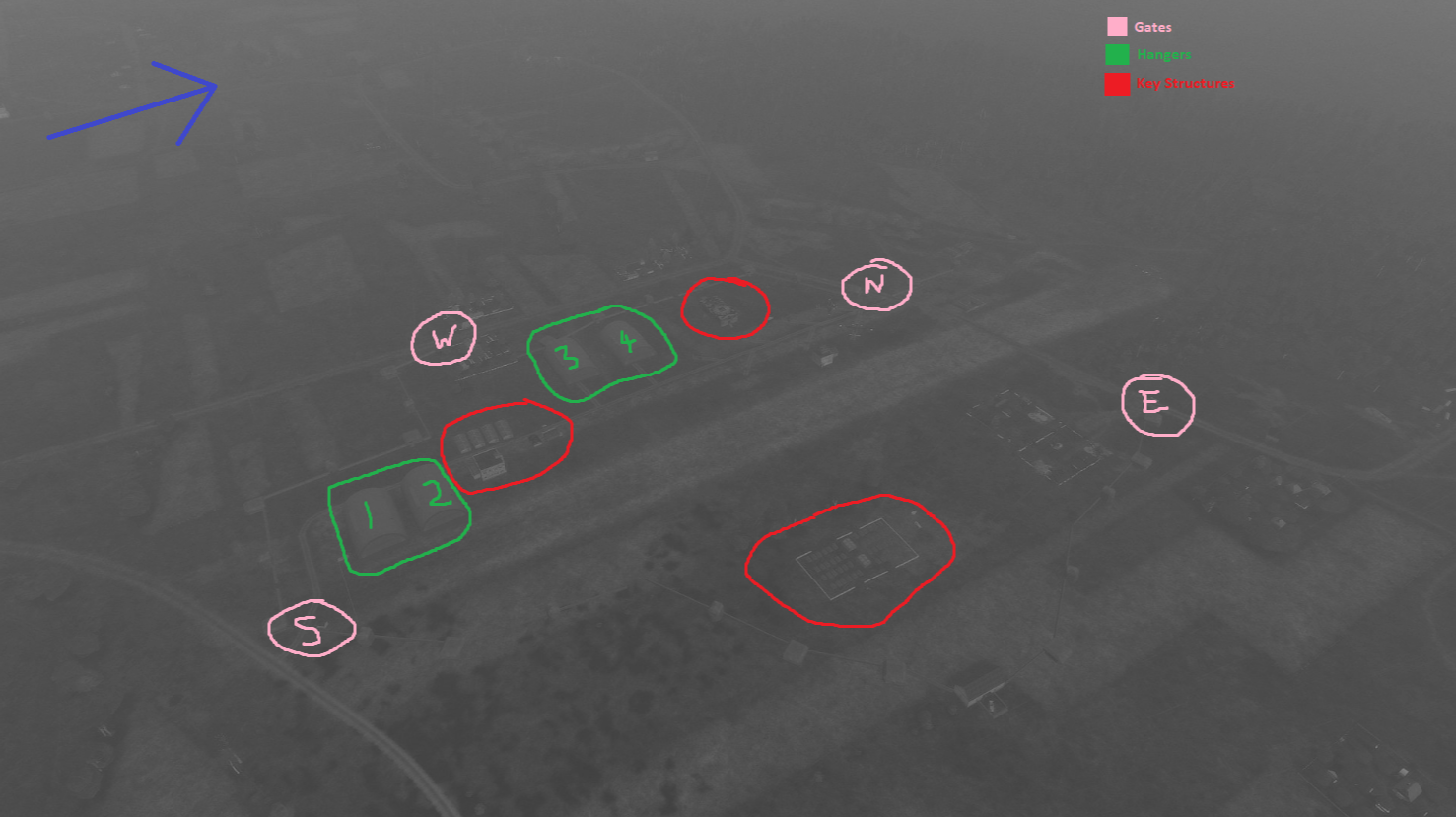 Looking Northwest
Looking Northeast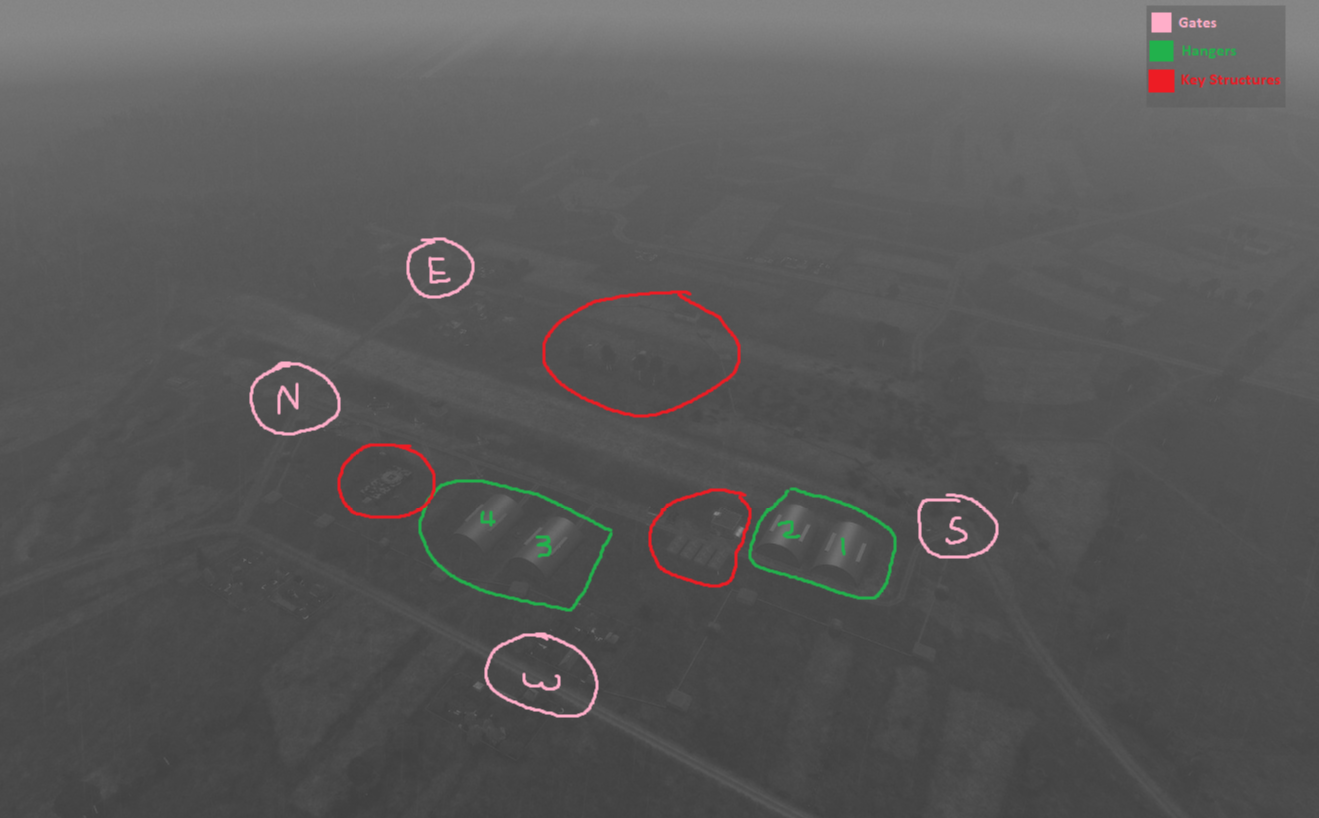 All images MSPaint improved.
Fire Support Plan
In accordance with SOP
Close Air Support
In accordance with SOP
Command/Signal
Communications Plan
| Callsign | Primary Frequency | Superior Frequency | ACTUAL |
| --- | --- | --- | --- |
| WATCHMAN 1-1 | 251mHz | 250mHz | Cpl Pidu (Ret.) Fireteam Leader |
| WATCHMAN 1-2 | 252mHz | 250mHz | 1Lt Ben (Ret.) Squad Leader |
| EASY 1-1 | 281mHz | 362mHz | Maj James Squad Leader |
| EASY 1-2 | 282mHz | 362mHz | Fireteam Leader |
Considerations
In accordance with SOP
---
CONNECTION INSTRUCTIONS
TEAMSPEAK IP:
ops.unitedtaskforce.net
GAME SERVER IP (Direct Connect):
ops.unitedtaskforce.net
GAME SERVER PASSWORD:
issued on Discord
TIMINGS
SERVER OPENS: 1830hrs UTC
FORM UP: 1900hrs UTC
ANNOUNCEMENTS/BRIEFING: 1915hrs UTC
STEP OFF: 1925hrs UTC
END-EX: 2100-2200hrs UTC APPROX
All are GMT/UTC


CONFIDENTIAL / FOR OFFICIAL USE ONLY
Equipment Checklist
The following combined equipment list is issued as part of approved kit lists and across relevant personnel.
Primary weapons
:
M16A4 (Carryhandle)
M249 PIP (Short/Para)
M4A1 PIP
M4A1 PIP
M4A1 PIP (M320)
Mk 11 Mod 0 (EC/Desert)
Secondary weapons
:
Glock 17
M1911A1
M9 Beretta
Ammunition
:
.45 ACP 8Rnd Mag
15rnd M9 Mk243 JHP
17rnd Glock M882 FMJ
17rnd Glock Mk243 JHP
200rnd M249 Box M855A1 (Mixed)
20rnd SR-25 M118
20rnd SR-25 M62 (Tracer)
30rnd PMAG M855A1
30rnd PMAG M856A1 (Tracer)
30rnd STANAG M855 (No Tracer)
30rnd STANAG M855A1
7rnd M1911 HP
AN-M8HC White Smoke
Designator Batteries
M112 Demolition Block
M18 Green Smoke Grenade
M18 Smoke Grenade (Blue)
M18 Smoke Grenade (Green)
M397 HET Grenade Round
M433 HEDP Grenade Round
M67 Fragmentation Grenade
M713 Red Smoke Round
M715 Green Smoke Round
M83 Smoke Grenade (White)
Muzzle attachments
:
AAC 762-SDN-6 (cover)
M8541A SSDS (MRDS)
Weapon optics
:
M68 CCO
TA31RCO-RMR
Sidearm optics
:
AN/PEQ-15
AN/PEQ-16A (Laser)
Head protection
:
ACH OEF-CP
ACH OEF-CP (Headset/ESS)
ACH OEF-CP (Headset/ESS/Alt)
ACH OEF-CP (Netting)
ACH OEF-CP (Norotos)
ACVC-H, MK-1697 (Tan/ESS)
Boonie (Desert Choc-Chip)
Pilot Helmet [NATO]
Uniforms
:
Army Combat Uniform (OEF-CP)
Combat Uniform OCP
M93 [ADR] (Choc-Chip)
M93 [ADR] (Khaki)
Pilot Coveralls [NATO]
Body armor
:
IOTV (Medic/OEF-CP)
IOTV (Repair/OEF-CP)
IOTV (Rifleman/OEF-CP)
IOTV (Squadleader/OCP)
PASGT Crew Vest [US Late] (Woodland)
SPCS (Team Leader Alt/OEF-CP)
SPCS (Team Leader/OEF-CP)
Optics
:
Binoculars
Laser Designator (Sand)
Vector 21 Nite
Launchers
:
M136 (HEDP)
Other equipment
:
AFG Grip
AN/PRC-152
ATragMX
Bandage (Basic)
Bandage (Elastic)
Bandage (Packing)
Bandage (QuikClot)
Blood IV (1000ml)
Bodybag
Cable Tie
Compass
DAGR
Dead Man's Switch
Defusal Kit
Earplugs
Entrenching Tool
Epinephrine Autoinjector
GPS
Harris Bipod
Helmet Camera
IR Strobe
Kestrel 4500NV
M57 Firing Device
M952V
Maglite XL50
Map
Map Tools
Morphine Autoinjector
Personal Aid Kit
Radio
Range Card
Rugged Tablet
SAW Improved Bipod
Splint
Toolkit
Tourniquet (CAT)
Watch