CONFIDENTIAL / FOR OFFICIAL USE ONLY
OPERATIONS ORDER
Special Deployments, Ion Incorporated, 1
---
TO:
OPERATIONS OFFICER
United Task Force
UNITAF Forces
FROM:
Lt Gen Chad P. Franks
CMDR CJTF USCENTCOM
MacDill Air Force Base Tampa, U.S.
---
--- OPERATIONS ORDER ---
Situation
Background Information
Ion Incorporated, a Private Military Company specialising in Asset Protection and Recovery have taken a contract in Tanoa.
The company will provide protection for a Chemical Research Facility that is working for [REDACTED] on [REDACTED].
Ion have been deployed to Tanoa a total of 4 days and thanks to this our presence on the island is relatively unknown. Tanoan officials and local Law Enforcement have however been made aware of our deployment and are unlikely to interrupt our operations. If in the event our Operatives are stopped or questioned by locals they are to remain professional and cordial, obeying any instruction by Law Enforcement unless it goes against Ion Operations Policy.
The cooperation has deployed;
1 x UH-1H Gunship - Callsign Nighthawk
                                - Transport loadout
                                - Pilot, Co-Pilot and 2x Gunner
3 x Protection Teams - Knight, Hunter & Warden
4 x Unarmed Black Offroads
2 x Specialised Transport Vans
2 x Armed Black Offroads (Yet to be deployed to Chemical Plant)
Tanoa is currently in a state of civil unrest with Anti Government demonstrations taking place in the Capital City and other larger towns across the island. 

The unrest has been reported as peaceful by the Organising body, the Free Tonoa Group. Stating their intent is pure and their goal is to find common ground with the government on a multitude of issues that have been lingering since the last civil war, however local law enforcement offices have reported more armed incursions in the more rural areas of the country and believe this may be caused by a extremist group that has yet to show its true hand.
Mission
Tasking
Knight Team (K-1) are to provide protection detail for all onsight assets and personnel at the Chemical Plant while Hunter is completing their Objective. The facility is located in a remote location so all traffic is to be monitored and patrols are recommended for the surrounding forest.
Hunter Team (H-1) are to mount a UH-1H Gunship callsign 'Nighthawk' and move north to the Ion Deport by the docks of La Rochelle. [099,135]
On arrival Hunter will be shown the delivery of 2 x Armed Offroad Trucks, they are then to return to the Chemical plant to assist in a delivery convoy scheduled for later in the day. Note; The trucks have just been shipped to the island and are undoubtedly low on fuel, a fuel station is marked on the route back, Hunter Actual will be given the company card (please get a receipt or Denise will kill me). [089,136]
When all assets are back to the Chemical Facility both teams with accompanying airsupport are to transport a van containing [Redacted] to Facility 2. The convoy is to run weapons green and any potential threat is to be dealt with immediately. The protection of the substance within the transport vehicles is paramount as the consequences of a leak are incredibly dangerous. Local Law enforcement has been made aware of the convoy and civilian traffic is being monitored.
Nighthawk (N-1) Are to transport friendly forces to the Ion Deport [099,135] then provide air support for the returning trucks and then the convoy. Secondary tasking may be assigned as the operation unfurls.  
Contamination Warning
In the situation of a leak of the [REDACTED] substance, Operators are to immediately equip breathing apparatus and retreat away from the affected area. In the unlikely situation the convoy transporting the substance is immobilised, complete destruction of all the substance is to be the first priority. Science staff working on the substance have confirmed a contained explosion will light the substance and nullify it.
Execution
Tasks and Sequencing
Knight Tasking;
1- Secure and Hold Ion Facility 1 
2- Mount vehicals and provide security for convoy to facility 2
Hunter Tasking;
1- Mount UH-1H Gunship and deploy at Ion Deport retreaving 2 x Armed Offroad
2- Return to Facility 1 after refuling
3- Provide security for convoy to facility 2
Nighthawk Tasking;
1- Transport Hunter to Ion Deport [099,135]
2- Provide Air support for returning Hunter team
3- Provide Air support for convoy heading to facility 2 [110,115]
Administration/Logistics
Resupply
In accordance with SOP
Medical
In accordance with SOP
Rules of Engagement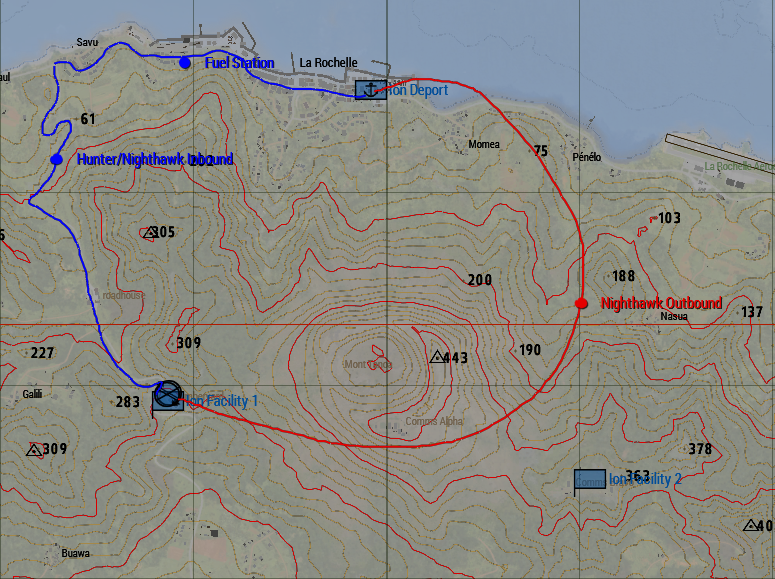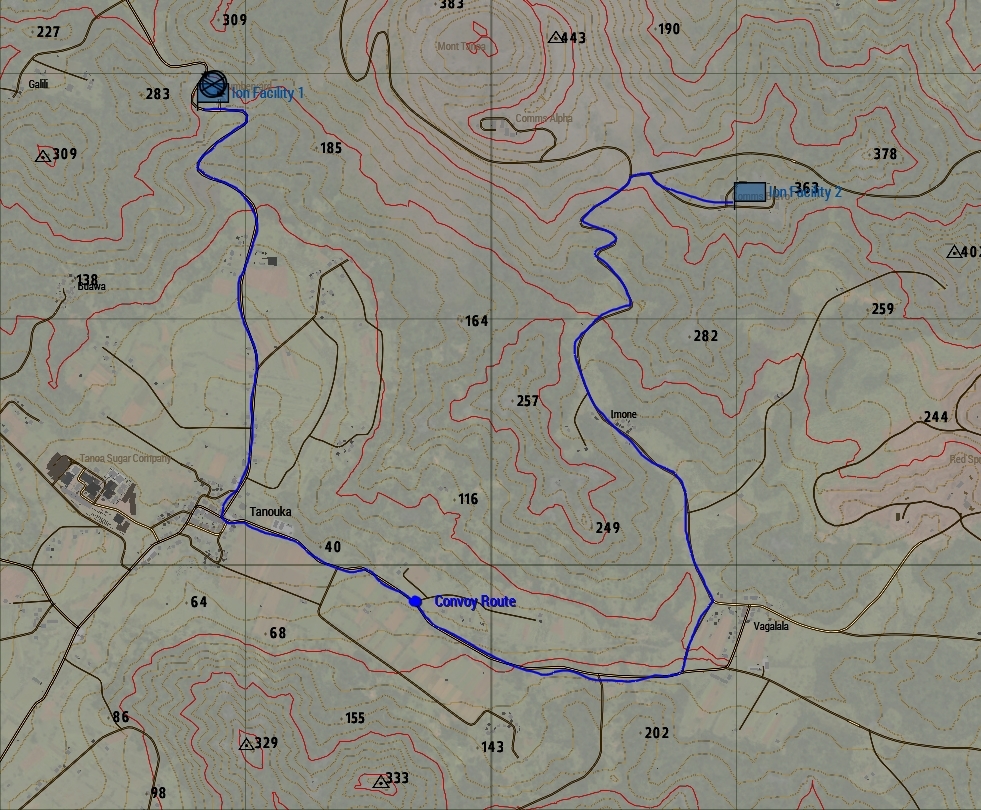 Fire Support Plan
In accordance with SOP
Close Air Support
In accordance with SOP
Command/Signal
Communications Plan
| Callsign | Primary Frequency | Superior Frequency | ACTUAL |
| --- | --- | --- | --- |
| KNIGHT 1-1 | 251mHz | 250mHz | 1Lt Ben (Ret.) Squad Leader |
| HUNTER 1-1 | 281mHz | 362mHz | SPC Deksterus Squad Leader |
| NIGHTHAWK 9 | 60mHz | 37mHz | MSP Kevin Rotary Crew Chief (General) |
Considerations
In accordance with SOP
---
CONNECTION INSTRUCTIONS
TEAMSPEAK IP:
ops.unitedtaskforce.net
GAME SERVER IP (Direct Connect):
ops.unitedtaskforce.net
GAME SERVER PASSWORD:
issued on Discord
TIMINGS
SERVER OPENS: 1830hrs UTC
FORM UP: 1900hrs UTC
ANNOUNCEMENTS/BRIEFING: 1915hrs UTC
STEP OFF: 1925hrs UTC
END-EX: 2100-2200hrs UTC APPROX
All are GMT/UTC


CONFIDENTIAL / FOR OFFICIAL USE ONLY
Equipment Checklist
The following combined equipment list is issued as part of approved kit lists and across relevant personnel.
Primary weapons
:
M249 PIP (Short/Para)
M4A1 PIP
M4A1 PIP
Mk 11 Mod 0 (EC/Desert)
MP5 SMG
Secondary weapons
:
Glock 17
M1911A1
M9 Beretta
Ammunition
:
.45 ACP 8Rnd Mag
15rnd M9 Mk243 JHP
17rnd Glock M882 FMJ
17rnd Glock Mk243 JHP
200rnd M249 Box M855A1 (Mixed)
20rnd SR-25 M118
20rnd SR-25 M62 (Tracer)
30rnd MP5 9mm Tracer (Red)
30rnd PMAG M855A1
30rnd PMAG M856A1 (Tracer)
30rnd STANAG M855A1
7rnd M1911 HP
AN-M8HC White Smoke
M112 Demolition Block
M67 Fragmentation Grenade
M83 Smoke Grenade (White)
Muzzle attachments
:
AAC 762-SDN-6 (cover)
Mk. 4 M5 (MRDS)
Weapon optics
:
M68 CCO
TA31RCO-RMR
Sidearm optics
:
AN/PEQ-16A (Laser)
Head protection
:
ACH OEF-CP
ACH OEF-CP (ESS)
ACH OEF-CP (Headset/ESS)
ACH OEF-CP (Headset/ESS/Alt)
ACH OEF-CP (Netting)
ACH OEF-CP (Norotos)
Boonie (Desert Choc-Chip)
Helicopter Pilot Helmet
Uniforms
:
Army Combat Uniform (OEF-CP)
M93 [ADR] (Choc-Chip)
M93 [ADR] (Khaki)
Body armor
:
IOTV (Medic/OEF-CP)
IOTV (Repair/OEF-CP)
IOTV (Rifleman/OEF-CP)
Pilot Vest
Optics
:
Binoculars
Vector 21 Nite
Night vision
:
Rhino mount
Launchers
:
M136 (HEDP)
Other equipment
:
AFG Grip
ATragMX
Bandage (Basic)
Bandage (Elastic)
Bandage (Packing)
Bandage (QuikClot)
Blood IV (1000ml)
Bodybag
Cable Tie
Compass
DAGR
Dead Man's Switch
Defusal Kit
Earplugs
Entrenching Tool
Epinephrine Autoinjector
GPS
Harris Bipod
Kestrel 4500NV
M57 Firing Device
M952V
Map
Map Tools
Morphine Autoinjector
Personal Aid Kit
Radio
Range Card
SAW Improved Bipod
Splint
Toolkit
Tourniquet (CAT)
Watch