CONFIDENTIAL / FOR OFFICIAL USE ONLY
OPERATIONS ORDER
Operation Typhoon, Dying light
---
TO:
OPERATIONS OFFICER
United Task Force
UNITAF Forces Jamaica
FROM:
Lt Gen Chad P. Franks
CMDR CJTF USCENTCOM
MacDill Air Force Base Tampa, U.S.
---
--- OPERATIONS ORDER ---
Situation
Background Information
Following 5th Marines assault westward to cut off Bagango from the north. We are now assaulting the capitol, when secure command hope that Russia will step back from the country, including their missiles - to allow the installation of a democratic government in favour of NATO. Yesterday the 5th Marines launched a blitzkrieg like attack west from there landing zone on the east, they successfully secured the main supply route from the north to the capitol. They continue to come under heavy fire and attacks from are and land forces. In the capitol we are expecting a civilian presence. We are expecting the SLA to throw everything in the city they have at us, as this is there last major city & the capitol of the country.
Friendly Forces
1x Platoon of USMC & US Army Forces, 3x Infantry Squads 2x US Army Bradleys 1x UH-1Y 1x Logistical Support Team with medical attachments.
Supporting Assets
5th Marines are to the north of the city after a successful blitzkrieg like attack across the country. They have already stopped multiple QRF's that were headed to regain the supply chain to the capitol.
Enemy Forces
Fully Russian backed conventional force, however they are cut off so they have limited supplies & manpower. We are however expecting them to throw everything they can at us to stop our advance.
Mission
Tasking
The mission for today is to capture the capitol city of bagango and everything else along the way. Expect heavy resistance as intel suggests they are fighting to the last man. Primary Objectives: A) Secure and defensive positions in sector alpha. B) Secure in Bagango - Headquarters, Barracks, Any Military Facilities, Possible Prison and the presidential Villa. C) Take out the suspected heavy armour in the industrial zone. Secondary Objectives: A) Secure/Destroy the TV & Coms Station.
End-state
Capitol City secure, all government buildings captured.
Execution
Commander's Intent
The purpose of this mission is to secure the city of bagango in the hope that the remaining SLA forces will either surrender or be extradited by Russia. We are also hoping that with the fall of this city, Russia will put out of the region.
Tasks and Sequencing
-All callsigns will start in Vehicle Resupply Point. Will be driven by Fox towards dismount markers -Wolf 3 will be first to move from convoy towards there dismount point -Wolf 1 and 2 will continue on route -in Sector Alpha: -Wolf 1 will move north of city of Mercalillo and support Wolf 2, after which, they will push towards Checkpoint and Fortifications -Wolf 2s first objective will be Vehicle Depot -Wolf 3 will pass Vehicle Depot from West, help 2 if needed and push towards FOB -In Sector Bravo: -Will be planned on the field because as we are speaking they are building more fortifications around city to slow us down.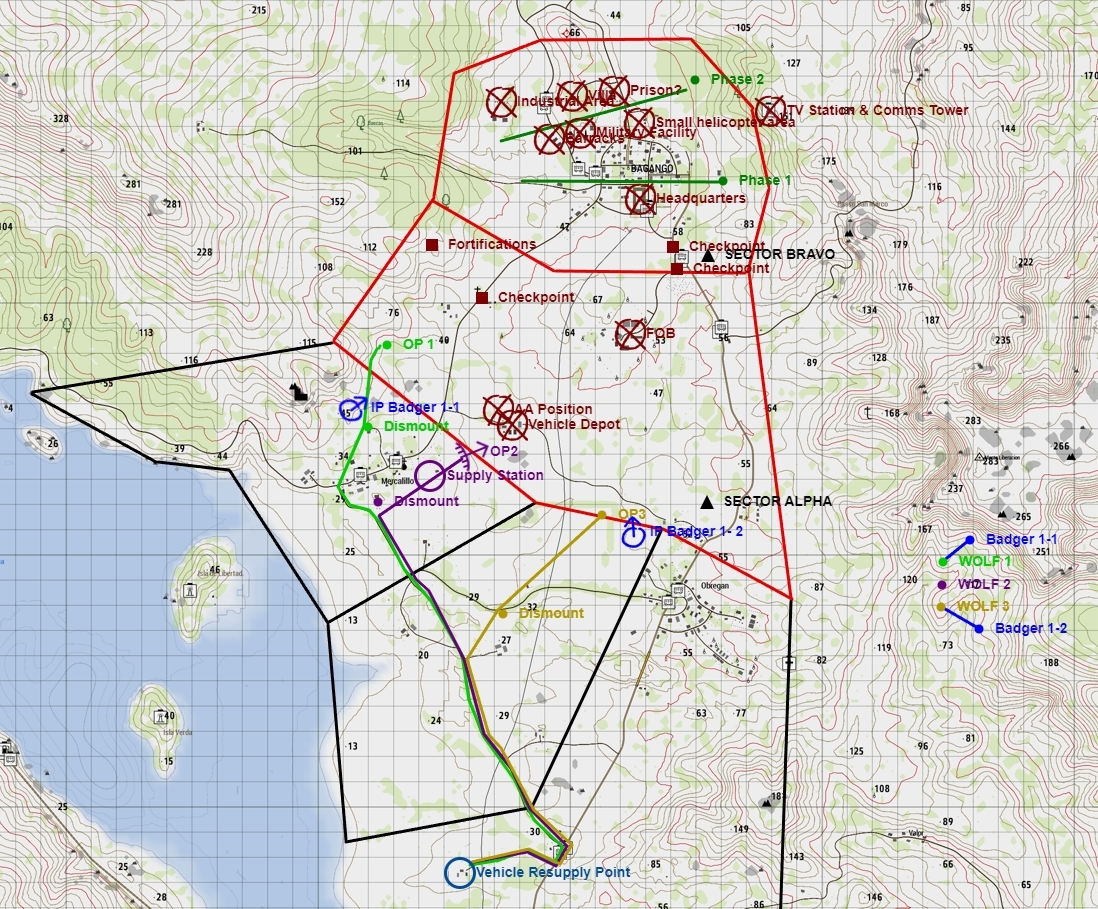 Administration/Logistics
Resupply
Resupply will be through FOX.
Medical
Urgent medical support will be through FOX.
Rules of Engagement
Possible civilians in the city, PID before engaging targets.
Fire Support Plan
In accordance with SOP
Close Air Support
In accordance with SOP
Command/Signal
In accordance with SOP
---
CONNECTION INSTRUCTIONS
TEAMSPEAK IP:
ops.unitedtaskforce.net
GAME SERVER IP (Direct Connect):
ops.unitedtaskforce.net
GAME SERVER PASSWORD:
issued on Discord
TIMINGS
SERVER OPENS: 1730hrs UTC
FORM UP: 1800hrs UTC
ANNOUNCEMENTS/BRIEFING: 1815hrs UTC
STEP OFF: 1825hrs UTC
END-EX: 2000-2100hrs UTC APPROX
All are GMT/UTC


CONFIDENTIAL / FOR OFFICIAL USE ONLY